Meets Building Codes
Dome'l manufactures or distributes products that are designed to meet specific building codes.
FIRE CODE
Dome'l offers specially designed vents that melt-out, spring open by fusible links or naturally vent out smoke and heat.
---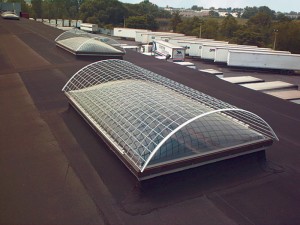 FALL PROTECTION
The Occupational Safety and Health Administration (OSHA) requires employers to provide fall protection. A person can fall through an unprotected skylights resulting in serious injury or death. Dome'l offers skylights with safety screens and rail systems that are OSHA compliant
Insurance Claims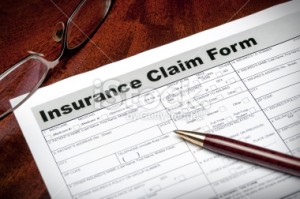 Dome'l specializes in replacing damaged skylights with new, high quality skylight systems that match or closely match the original skylight in appearance but exceed it in performance. Dome'l uilizes the newest, most durable, energy efficient materials to give you peace of mind of year to come.
Simply submit a photo with a description of your existing skylight and Dome'l will give a detailed written estimate that can be submitted to your insurance company. We will even work directly with your insurance agent to provide all pertinent informatiopn to help you attain the maximum claim amount for replacing your skylight.
Impact Resistance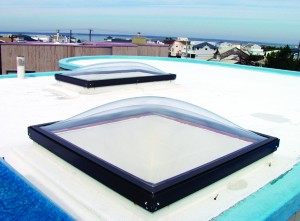 Acrylic is the typical glazing for dome skylights. However, polycarbonate is ideal when impact resistance is required.
For instance, in seaside communities seagulls drop clams to try to break them open on a hard surface. Unfortunately, many times they drop their clams on a roof top and crack standard glazed domes. In these cases, Dome'l recommends polycarbonate domes that are much more impact resistant to resist cracking and breakage.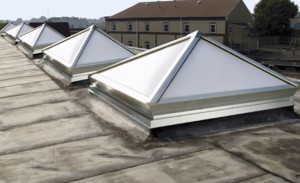 Multi-wall polycarbonate provides top quality, diffused daylight and superior impact strength. Dome'l offers a range of systems from the most economical to models with superior thermal insulation.
Condominiums / Townhouses
Dome'l can manufacture skylights to exact size and shape of the existing openings. There is no need to pay a contractor to rebuild the opening to fit the new skylight. The skylights are designed to mount directly onto the roof deck so no interior finish work is required.
Dome'l can match virtually any skylight type and color. This is particularly important because many times skylights are replaced individually so the new skylights must match the existing skylights on rooftops throughout the complex to meet the strict association guidelines for uniformity, appearance and performance.
Landmark / Historic

It is incredibly important to preserve landmark buildings because of their historic significance and beautiful architecture. Unfortunately, many of these buildings begin to deteriorate over time due to out-of-date building materials. For instance, many skylight systems were made from wood and single pane glass. The wood can rot and the single pane glass allows excessive heat loss/gain.
Fortunately, Dome'l can replace the obsolete skylight with a new, energy-efficient system with high quality, long lasting and virtually maintenance free materials while maintaining the historic integrity of the architectural allure.
Restoration / Replacement
Replace old, obsolete skylights with new, innovative skylights by Dome'l. A wide variety of skylight designs are available for almost any application or condition. From cutting edge styles utilizing the newest thermally efficient aluminum with high performance Low E insulated glass to polycarbonate glazing to resist high impacts . . . Dome'l can upgrade your skylights while maintaining the same or similar appearance.
Skylight Installation
Click on the images below to view the slideshow.
Single Pitch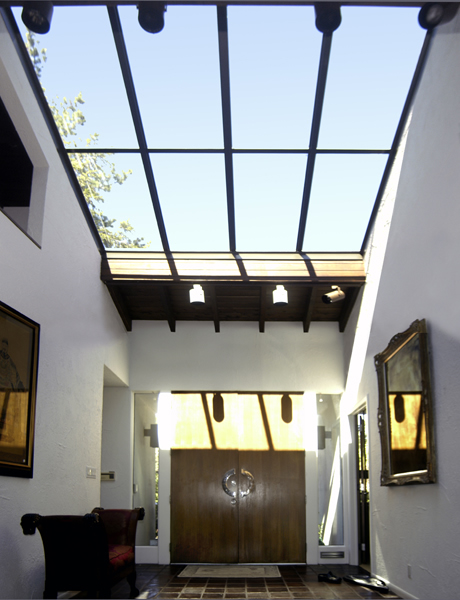 Dome'l's single pitch skylight system is designed to mount onto a pitched roof or curb.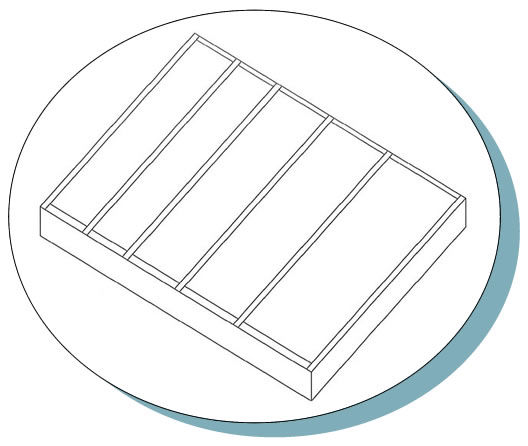 Healthy sunshine pours into any room, hall or lobby to create a warm and inviting atmosphere.
Lean-To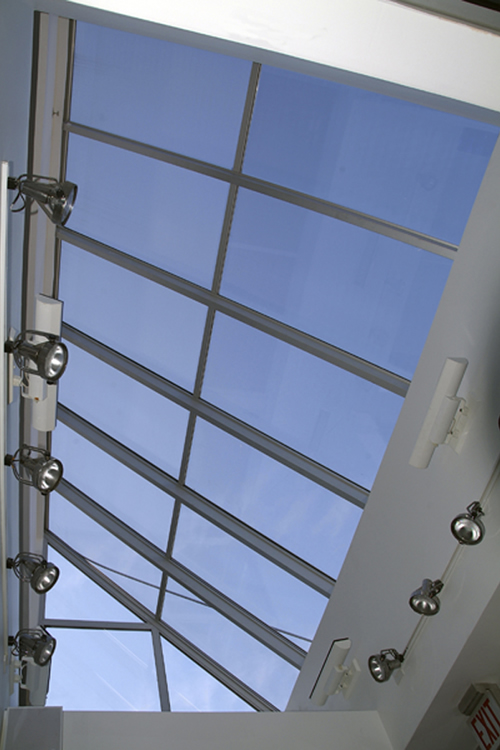 Dome'l's lean-to skylight is an innovative sloped glazed system that can be custom manufactured to fit your building's architectural design to create the perfect blend of functionality and aesthetics.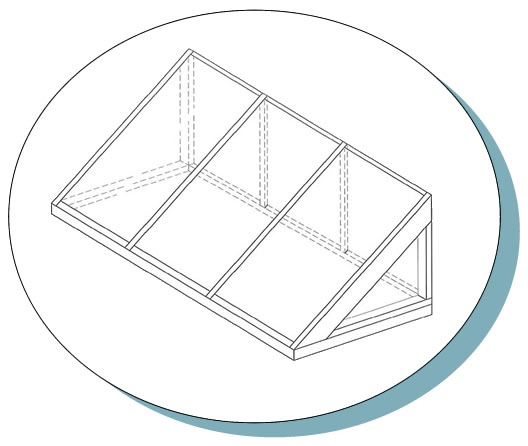 Circular
Dome'l offers two types of round skylight systems. Curb mount model that mounts over an existing curb and Integral curb model that includes a 9" high insulated curb.
Custom Designs
"Horse Shoe Design"
This curved glass skylight system was custom fabricated from extruded aluminum into segments to give the appearance of a horse shoe for a new casino in Yonkers, New York. Insulated glass with a white laminated interlayer was utilized to minimize sun glare and heat gain while providing plenty of natural daylight.
"Cluster Pyramid" Design
This rooftop skylight system was designed to mount over a custom sunroom. This intricate structure consisted of a series of hipped skylight sections interconnected to create a distinctive and elegant form.
Need a quote? Simply provide a sketch, a photo or detailed shop drawings to Dome'l. The more detailed information you provide, the more accurate the quote. Email quote to estimating@domelinc.com or fax to 973-614-8011.
Custom Forms
Dome'l offers formed acrylic and polycarbonate designs that are ideal for making a bold architectural statement. Skylights are constructed from aluminum frames, with your choice of acrylic or polycarbonate in clear, bronze or white.
Need a quote? Simply provide a sketch, a photo or detailed shop drawings to Dome'l, using our convenient "Request a Quote" form. The more detailed information you provide, the more accurate the quote.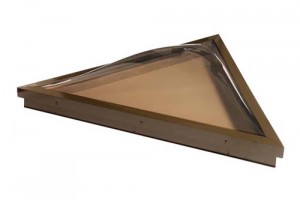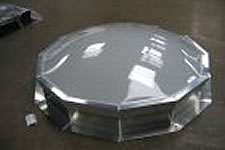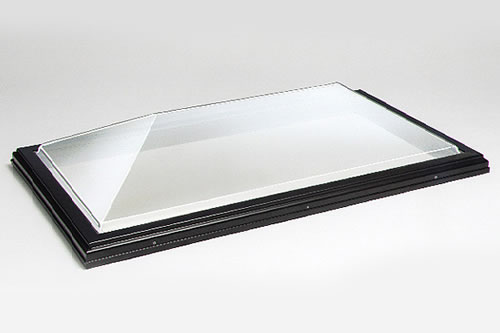 Custom Shapes
Dome'l can custom fabricate different geometric shaped skylight systems to naturally blend into existing roof structures.
They are available with insulated glass, acrylic or polycarbonate. The rugged aluminum frame can be painted to custom color match roof shingles or siding.
We can build triangles, trapezoids, octagons, pentagons and many other shapes.
Need a quote? Simply provide a sketch, a photo or detailed shop drawings to Dome'l. The more detailed information you provide, the more accurate the quote. Email quote to estimating@domelinc.com or fax to 973-614-8011.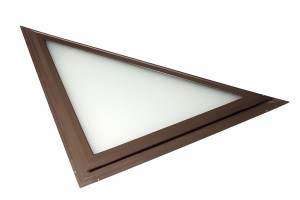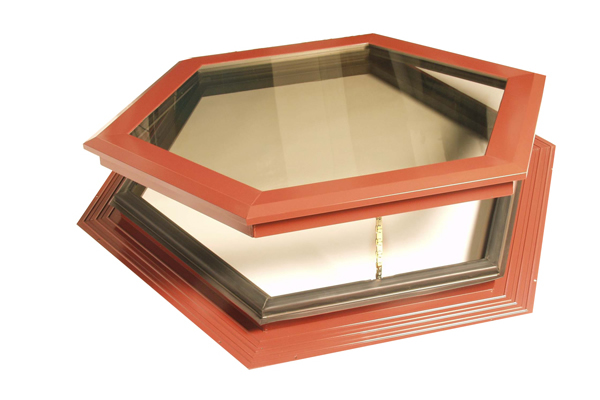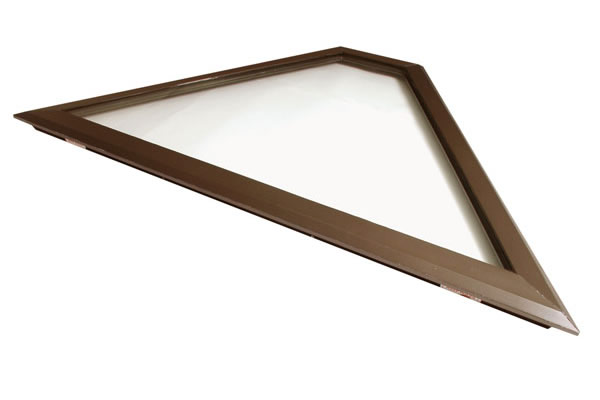 Roof Hatch
Roof hatches are designed to provide access to the roof. They are available in aluminum or prime coated galvanized steel. Smooth operating compression springs allows hatch to open and close easily. Available with domes to provide natural daylight.
Integral Curb Dome
Dome skylights are available with 9" high and 12" high insulated and non-insulated curbs. Options include single and double domes in clear, white or bronze colors. Aluminum finish choices are mill, bronze painted or white painted. We offer custom color matching too. Acrylic is the standard glazing but polycarbonate is available upon request when impact resistance is required. This skylight model is designed to mount onto flat roofs.
Hip Ridge Vent
Dome'l offers models that include vent hoods designed to release excess heat build-up and top & bottom screens to prevent fall-throughs. These skylight designs are ideal for mounting over elevator shafts and common stairwells.
Heat and Smoke Vents
Dome'l offers a variety of smoke vents including drop-out and fusible link designs. These units provide plenty of daylight while protecting buildings in the event of a fire. These vents comply with national fire codes.
Copper
Dome'l offers copper framed skylight systems that are ideal for historic and landmark buildings. Available in 16 oz., 20 oz. and 24 oz. copper. Options include vent hoods, louvered bases, screens and wire glass.
Dome with Screen
Dome'l offers acrylic dome skylights with specially designed screens to prevent fall-throughs. These screens meet OSHA regulations for protection against employees or contractors accidentally falling through skylight openings in commercial and industrial buildings.
Pre-Glazed Pyramids
These unique pre-glazed structural skylights are designed for a quick and easy installation. They ship fully assembled and factory glazed ready to mount onto site-built curbs. Fabricated from rugged extruded aluminum and virtually unbreakable glazing material, they are ideal for applications requiring high light transmission, thermal insulation and vandal resistance.
Available in three standard aluminum finishes – clear anodized, dark bronze anodized and white painted
Glazing options are clear, bronze tinted and white translucent
Dome'l offers standard sizes and can custom fabricate up to 93" x 93".
---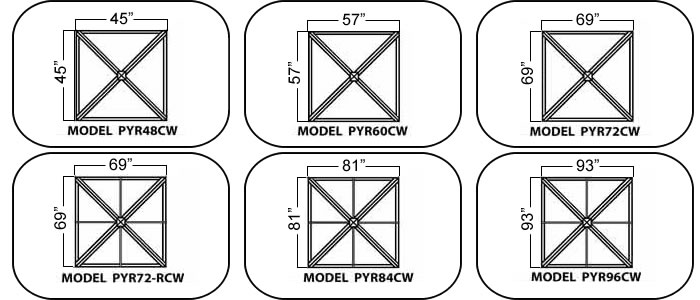 ---
Barrel Vault Skylights
Dome'l offers different vaulted skylight systems including continuous vaulted and half round designs. They are available as a curb mount model that mounts onto site built curbs or self-flashed models that have the curb included.
These vaulted skylights can be used to brighten lobbies or hallways with natural light or they can be utilized at an entrance or as a walkway cover.
---
---
Ridge Skylight
S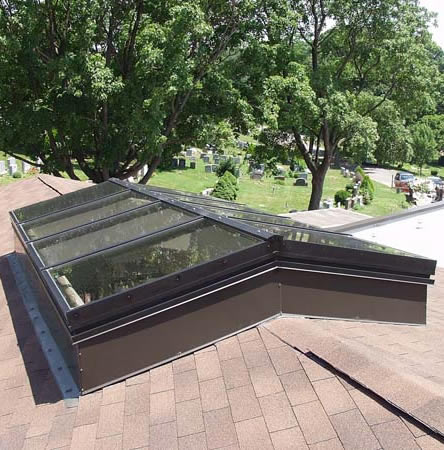 Dome'l's structural ridge skylight is designed to mount along the ridge line to provide maximum light.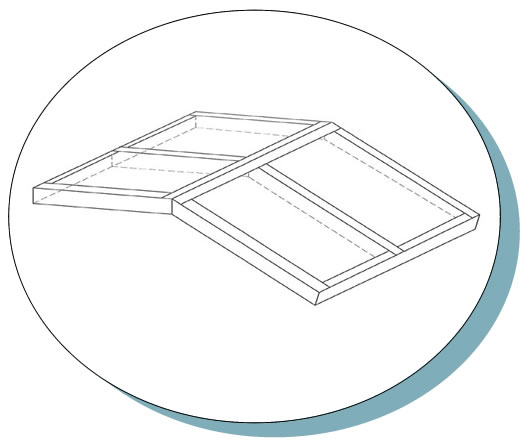 High performance insulated glass provides superior energy-efficiency while blocking harmful ultra-violet rays.
Cupola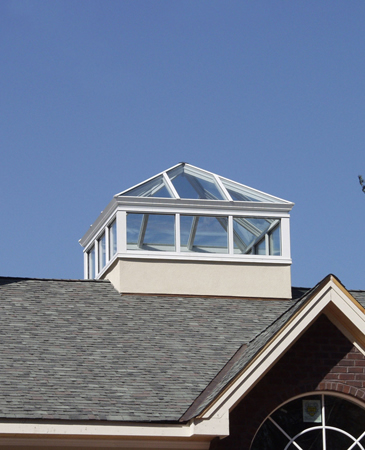 Cupola skylights are manufactured with a vertical glazed frame.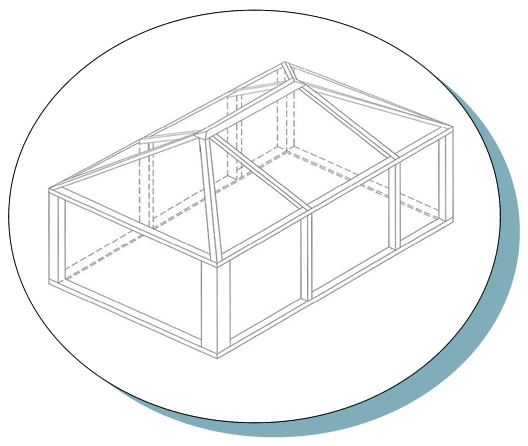 This system has a striking appearance from both the interior and exterior.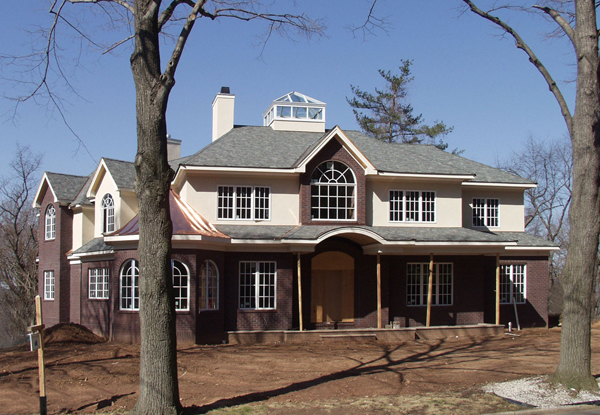 Polygon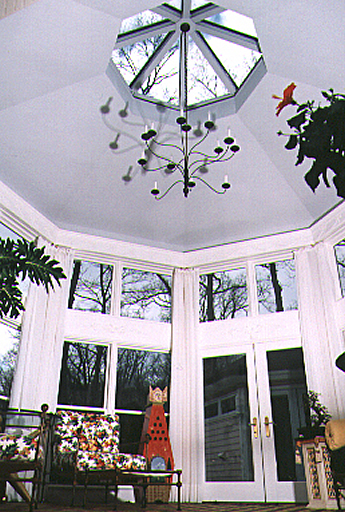 Dome'l's polygon skylight system can be custom manufactured in multiple segment options to create an amazing architectural focal point while supplying plenty of natural light.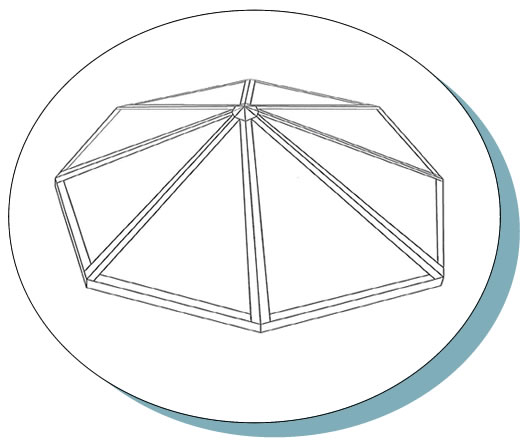 Pyramid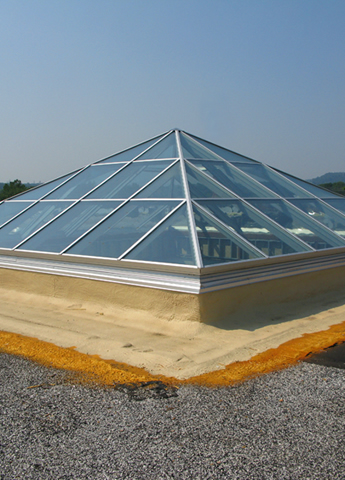 Pyramid skylights can be manufactured to almost any size from 4'x4′ to more than 30'x30′.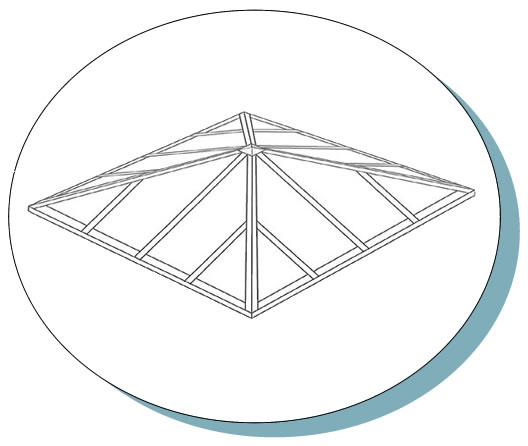 This impressive design enhances the beauty of any home, office or building and offers natural daylight, thus yielding significant savings from expensive electrical lighting expenses.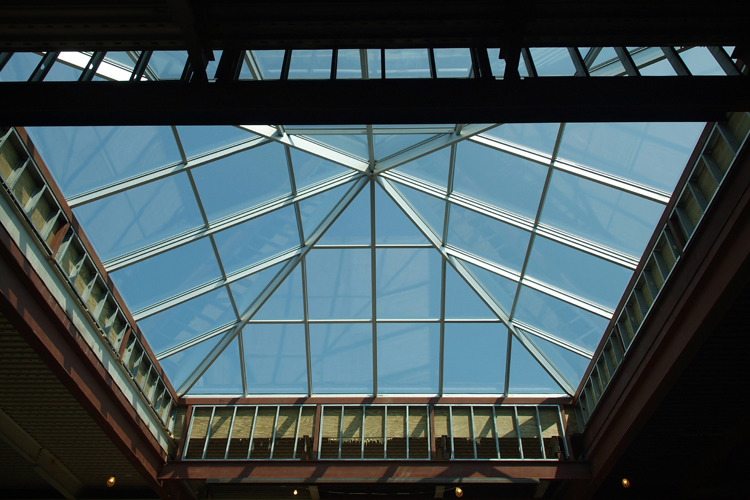 Hip Ridge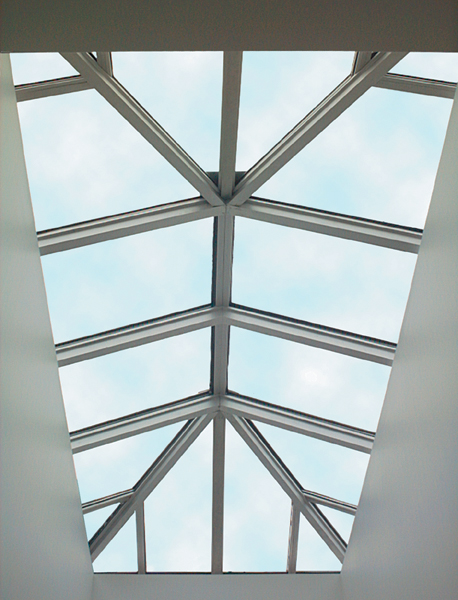 Dome'l's structural hip ridge skylights are self-supporting structures with hip ends.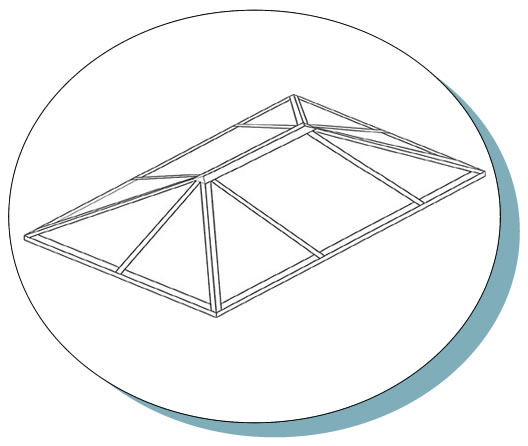 They are manufactured from heavy gauge extruded aluminum frames with insulated glass.
Gable Ridge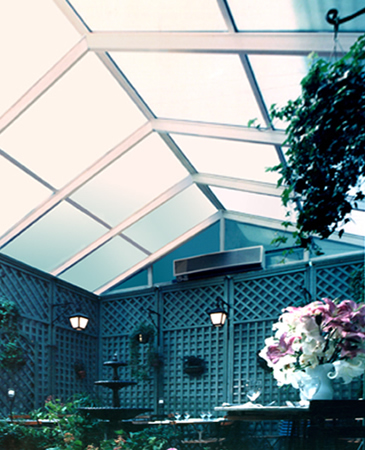 Dome'l's structural gable ridge skylights are self-supporting structures with gable (vertical) ends.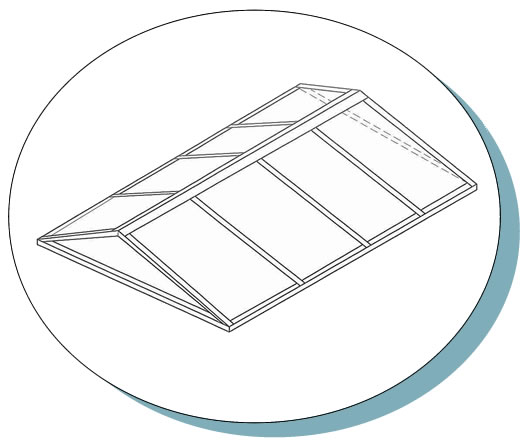 They are manufactured from heavy gauge extruded aluminum frames with insulated glass.
Curb Mount (Venting) – Glass
Curb Mount (Fixed) – Glass
Curb Mount – Pyramid
Curb Mount – Dome
Self-Flashed Fixed – Glass
Self-Flashed Venting – Glass
Self Flashed Fixed – Acrylic
Curb Mount – Circular